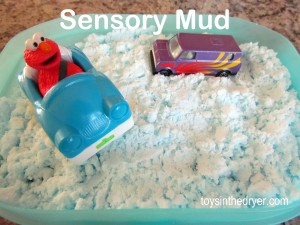 If your kids like things that feel neat then this is the thing for them! It's REALLY easy and REALLY cheap to make too! All you need is water and a box of baking soda (which usually runs you less than a dollar). My kids love to feel squishy things with their hands and feet so when I saw this pinned on Pinterest I thought I better give it a try. The original pin just used baking soda and water, but I added a little food coloring to the water prior to mixing and we ended up with some blue "sensory mud."
Dump your box of baking soda in a bowl and SLOWLY add a few drops of water….seriously all you need is about a teaspoon total. If you add the water to quickly or add to much you end up with soup rather than mud.
My kids loved to just squeeze it but there are several other things you can do with it too. You can use different cookie cutters to make shapes in the mud, which was one of my favorite things to do with it. My two-year old used the sensory mud to drive his trucks in and he thought it was awesome!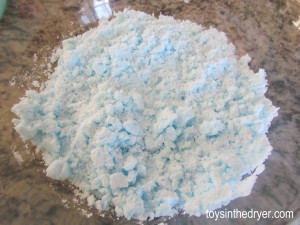 My daughter, a little mommy, pretended to make bowls of ice cream and snow cones with it.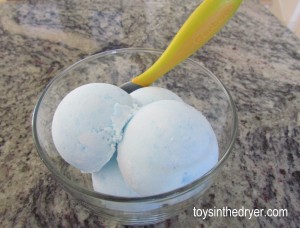 All in all it was good clean fun! When you are done you can store it in an air tight container or plastic bag or you can use the moistened baking soda as an abrasive to scrub out your sinks.